Using free data, GPUs, and graph APIs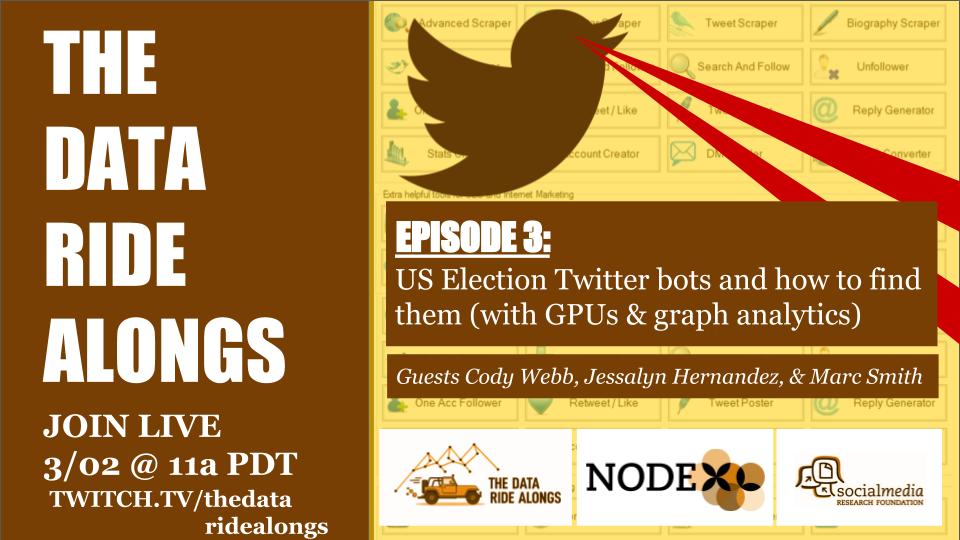 With Bloomberg openly paying social media influencers, Trump already spending $30M+ on highly targeted Facebook campaigns, and the social media megacrops waffling on their responsibilities around having become the propaganda tools of choice, we take a data-driven look into the bots manipulating our digital lives.
Our latest data ride along takes you behind-the-scenes as our guests Cody Webb, Jessalyn Hernandez, and Marc Singer join us to answer two basic questions:
How active is bot activity in the US presidential election and what does it look like?

Can we build effective DIY tools that easily reveal bot activity, and if so, should we raise our ethical expectations for civic groups and social media platforms?
If you are new to The Data Ride Alongs, each session provides an inside look into how to answer a new topic using data science by bringing together a domain expert and data scientists. We prepare the data ahead of time, and then invite viewers to join us for a combined live interview and live coding session, and after, share DIY data and code (notebooks). All the data and code is open. That means you can simply enjoy the show and post-session recording and writeup, and when especially interested, try it out for youself, and even contribute your own tweaks!
Session #03 brings guests Cody Webb & Jessalyn Hernandez, OSINT researchers, and Marc Smith, founder of the NodeXL tool and the Social Media Research Foundation, to map out a ring Cody has been tracking. We'll build a DIY notebook based on the Twitter firehose, Twarc, Nvidia RAPIDS, NodeXL, and Graphistry.
To get going:
Join live on Monday March 2nd @ 11a PT (2p ET) at The Data Ride Alongs Twitch.TV stream

To get the recording delivered to your inbox, hear first about upcoming sessions, and get post-show writeups + DIY code, we encourage you to sign up for the monthly announcement: